Data Management Plans
A Data Management Plan documents the specific attributes expected for your FAIR objectives.
Prepare the Data Management Plan as early as possible
Overview
Good scientific practice for life science research and development requires the careful planning and design for the collection of data from any source, such as laboratory experiments, clinical studies, databases and scientific literature. A Data Management Plan (DMP) is an essential element in the process to manage the FAIR data life cycle. It will document the plan for the dataset and associated metadata in specific terms of what, how, who and when. This process will support making the data FAIR by design.
The DMP will most likely estimate the period expected for retention of the data and thereby set a future date to review status of the dataset. This will determine whether it continues to be stored for immediate access (higher cost) or if it should be archived (lower cost), while keeping the associated metadata as the permanent scientific record, in an appropriate storage medium. The DMP is a key tool that enables support for the FAIR data life cycle, as illustrated in Figure 1 below. It is most effective when applied prior to generation or collection of data and metadata.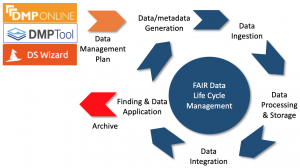 Figure 1: The DMP supports the generation of data and metadata
How To
Select an existing DMP template that is most relevant from an internal collection or from a public source, such as DMP online [1].

Plans can be private to individuals or organisations and they can also be public.
Two selected examples:

If a relevant DMP template does not exist already, then adapt an existing DMP template by manual authoring or by use of an authoring tool, such as DMPTool [2] or Data Stewardship Wizard [3].
Consider submission of any newly created DMP template to your internal or public collection for re-use by yourself and others in your community.
Complete the DMP template as fully as possible.

If there are any significant gaps you should take steps to remedy this, especially if this includes essential metadata for making the data FAIR.

Make sure that your DMP includes a future date to review the value of the data and the quality of the metadata.
Learn from training tutorials and webinars on data management planning [4].
References and Resources
At a Glance
Related methods
Setting
Prepare a DMP early as possible
Guides the collection and management of data and metadata
Timing
The time taken to develop the DMP will depend on the complexity of the data and metadata.
The DMP should include a future date to review the validity and value of the data.
The associated metadata should be a permanent record of how the data was collected.
Team
Data steward
Scientist(s) collecting the data
Science manager(s)
Difficulty
Low to medium
Resources
Top Tips
Consider establishing a general data management policy for the organisation to ensure alignment of each individual DMP to support a particular science project.
DMPs are expected to be a cornerstone of data management policy for an organisation. Both the plans and policies will need occasional review and update to ensure they are current.
Industry users can re-use or customise the public plans and templates in DMPonline.
Direct usage of the repository service of DMPonline may also be an option, depending on the data management policy of an organisation.